Girls for Health and Literacy (GfHL) with funding from Centre for Health and Ethics, Law and Development (CHELD) recently organised a two-day cervical cancer awareness campaign at Abraka and Obiaruku towns in Delta State to educate women in both communities on the issue of cervical cancer and the importance of pap smear screening to identify the presence of the Human papillomavirus (HPV) that causes cervical cancer.
At the end of the campaign, 161 women were informed of the importance of pap smear screening in the early detection of cervical cancer and where such screening could be done in both Obiaruku and Abraka communities of Delta state.
Incidence of Cervical Cancer in Nigeria
Cervical cancer is a preventable and treatable disease. Yet in Nigeria, Cervical cancer ranks as the 2nd most frequent cancer among women in Nigeria and the 2nd most frequent cancer among women between 15 and 44 years of age.[1]
With a population of 56.2 million women ages 15 years and older who are at risk of developing cervical cancer, Nigeria has one of the highest numbers of cases of cervical cancer worldwide and it is the second most common cancer in women in Nigeria.[2]
Current estimates indicate that every year 12,075 women are diagnosed with cervical cancer and 7,968 die from the disease.
Symptoms and early signs[3]
In the early stages of cervical cancer, a person may experience no symptoms at all. As a result, women should have regular cervical smear tests or Pap tests. A Pap test is a method used not to detect cancer but to reveal any cell changes that indicate the possible development of cancer so that a person can take early action to treat it.
The most common symptoms of cervical cancer are:
bleeding between periods
bleeding after sexual intercourse
bleeding in post-menopausal women
discomfort during sexual intercourse
vaginal discharge with a strong odor
vaginal discharge tinged with blood
pelvic pain
These symptoms can have other causes, including infection. Anyone who experiences any of these symptoms should see a doctor.
Cervical cancer causes[1]
In recent years, there has been a lot of progress in understanding what happens in cells of the cervix when cancer develops. In addition, several risk factors have been identified that increase the odds that a woman might develop cervical cancer. [2]
Human papillomaviruses (HPV) have two proteins known as E6 and E7 which turn off some tumor suppressor genes, such as p53 and Rb. This may allow the cells lining the cervix to grow too much and to develop changes in additional genes, which in some cases can lead to cancer. But HPV is not the only cause of cervical cancer. Most women with HPV don't get cervical cancer, and other risk factors, like smoking and HIV infection, influence which women exposed to HPV are more likely to develop cervical cancer.[3]
Most cervical cancer cases are caused by the sexually transmitted human papillomavirus (HPV). This is the same virus that causes genital warts. There are about 100 different strains of HPV but only certain types cause cervical cancer. The two types that most commonly cause cancer are HPV-16 and HPV-18.
Being infected with a cancer-causing strain of HPV doesn't mean you'll get cervical cancer. Your immune system eliminates the vast majority of HPV infections within 2 years.
Risk factors
Almost all cervical cancers are caused by human papillomavirus (HPV), a common virus that can be passed from one person to another during sex. There are many types of HPV. Some HPV types can cause changes on a woman's cervix that can lead to cervical cancer over time, while other types can cause genital or skin warts.[1] Risk factors for cervical cancer include: [2]
Many sexual partners.The greater your number of sexual partners — and the greater your partner's number of sexual partners — the greater your chance of acquiring HPV.
Early sexual activity.Having sex at an early age increases your risk of HPV.
Other sexually transmitted infections (STIs).Having other STIs — such as chlamydia, gonorrhoea, syphilis and HIV/AIDS — increases your risk of HPV.
A weakened immune system.You may be more likely to develop cervical cancer if your immune system is weakened by another health condition and you have HPV.
Smoking is associated with squamous cell cervical cancer.
Exposure to miscarriage prevention drug.If your mother took a drug called diethylstilbestrol (DES) while pregnant in the 1950s, you may have an increased risk of a certain type of cervical cancer called clear cell adenocarcinoma.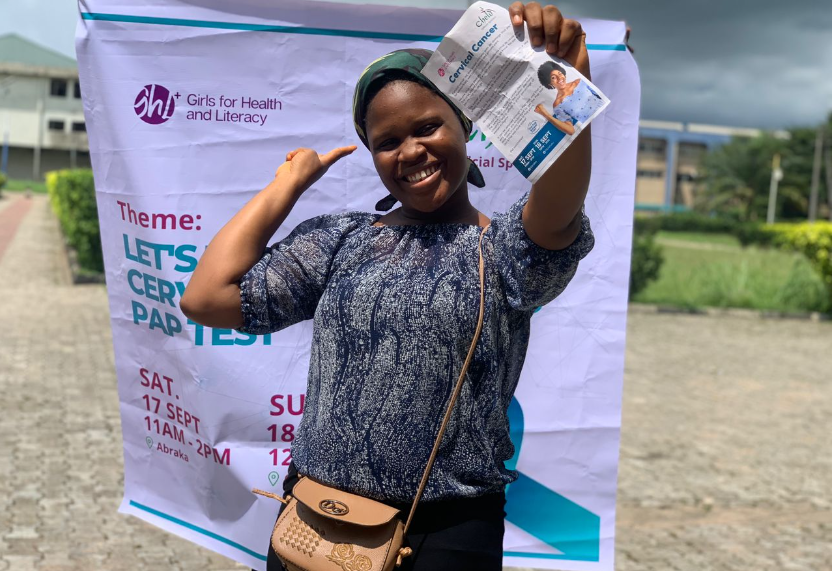 Can cervical cancer be prevented?
There are some things you can do to prevent cervical cancer. Receiving regular gynaecological exams and getting Pap tests are the most important steps to take toward preventing cervical cancer. Other things you can do are[3],[4]:
Ask your doctor about the HPV vaccine. Receiving a vaccination to prevent HPV infection may reduce your risk of cervical cancer and
other HPV-related cancers. Ask your doctor whether an HPV vaccine is appropriate for you.
Have routine Pap tests. Pap tests can detect precancerous conditions of the cervix, so they can be monitored or treated to prevent cervical cancer. Most medical organizations suggest beginning routine Pap tests at age 21 and repeating them every few years.
Practice safe sex. Reduce your risk of cervical cancer by taking measures to prevent sexually transmitted infections, such as using a condom every time you have sex and limiting the number of sexual partners you have.
Don't smoke. If you don't smoke, don't start. If you do smoke, talk to your doctor about strategies to help you quit.
[1] https://hpvcentre.net/statistics/reports/NGA_FS.pdf
[2] https://www.afro.who.int/countries/nigeria/news/first-ladies-driving-advocacy-and-interventions-elimination-cervical-cancer-nigeria
[3] https://www.medicalnewstoday.com/articles/159821#symptoms_and_early_signs
[4] https://www.healthline.com/health/cervical-cancer#treatment
[5] https://www.cancer.org/cancer/cervical-cancer/causes-risks-prevention/what-causes.html
[6] ibid
[7] https://www.mayoclinic.org/diseases-conditions/cervical-cancer/symptoms-causes/syc-20352501
[8] https://www.mayoclinic.org/diseases-conditions/cervical-cancer/symptoms-causes/syc-20352501
[9] https://my.clevelandclinic.org/health/diseases/12216-cervical-cancer
[10] https://www.mayoclinic.org/diseases-conditions/cervical-cancer/symptoms-causes/syc-20352501