On the 27th of October, in observance of World Mental Health Day, CHELD held its mental health webinar titled "Mental Health Right is Human Right: A Discourse on the National Mental Health Right"
The first speaker Dr. Ojo, the Coordinator of the National Mental Health Programme at the Federal Ministry of Health spoke on the timeline that led from the drafting to the signing of the new Mental Health Act. He traced the role of the Ministry, Lawmakers and Presidency.
He also pointed out the Ministry's progress and prospects in implementing the Act at the States. According to him, the Federal Ministry of Health has tasked all state health ministries to establish a Mental Health Desk in their respective states. He also mentioned plans to train primary health workers to treat people with mental health conditions.
The second speaker Prof Onyemelukwe, the Executive Director of CHELD spoke on the progress made in addressing mental health issues since the passage of the Act. In her talk, she touched on the prevalence of mental health in Nigeria, issues with mental health, the right to health, decriminalisation of attempted suicide, the state of law and the rights of mental health patients in Nigeria.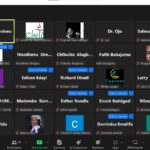 She raised some outstanding issues such as the continued criminalisation of attempted suicide, the need for integration of mental health care into primary health care, the creation of more public awareness of the Act, accessibility and affordable of mental health services and domestication of the Act by various states of the Federation.
The webinar ended with some recommendations and suggestions from the participants among them are the need for training of civil society organisations, law enforcement agencies, lawyers and judges on the Act, advocacy and the need for more psychiatrists and other mental health practitioners.
The webinar featured 60 participants across the African continent who were interested in the discussion on the rights of mental health patients.